ALL OF YOUR MACHINES CONNECTED TO A SINGLE OEE
PLATFORM
Track your performance and optimize for improving your overall efficiency.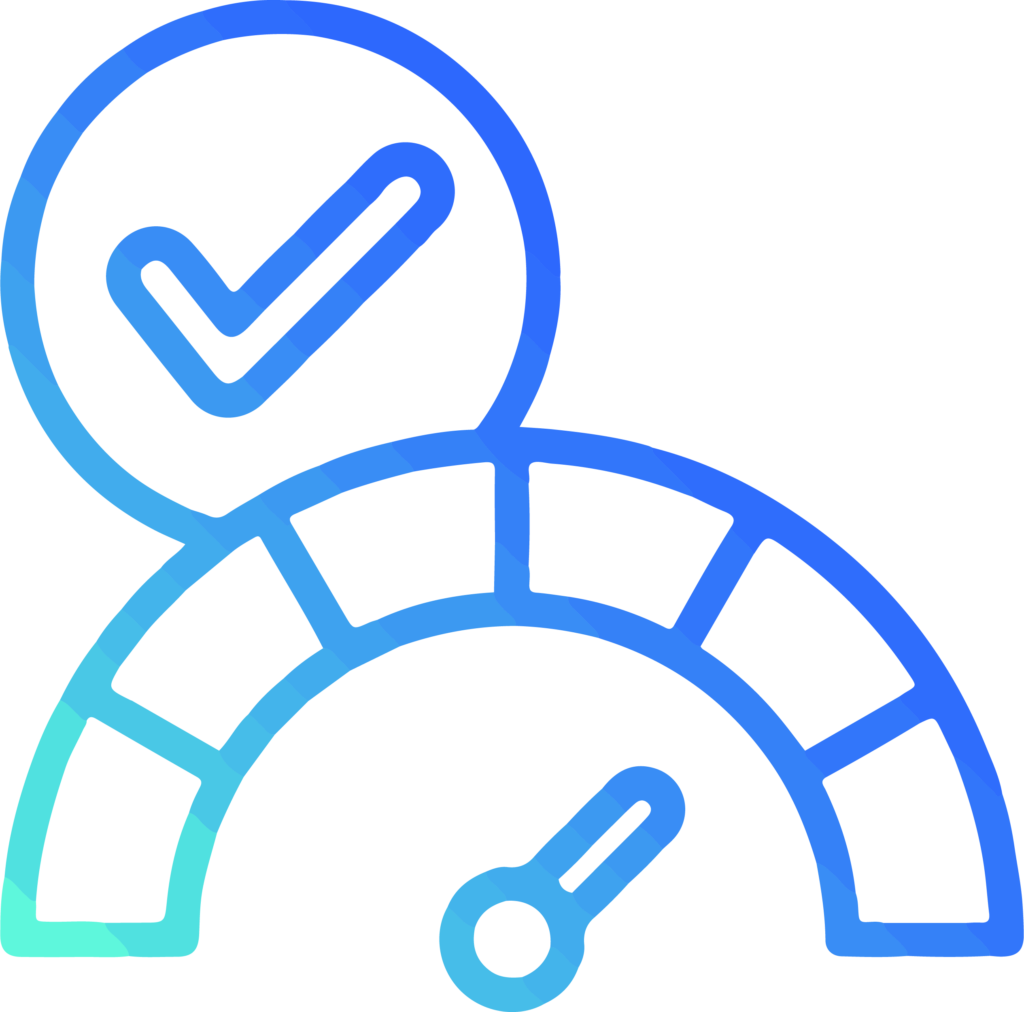 Improve the level of efficiency across different stages of production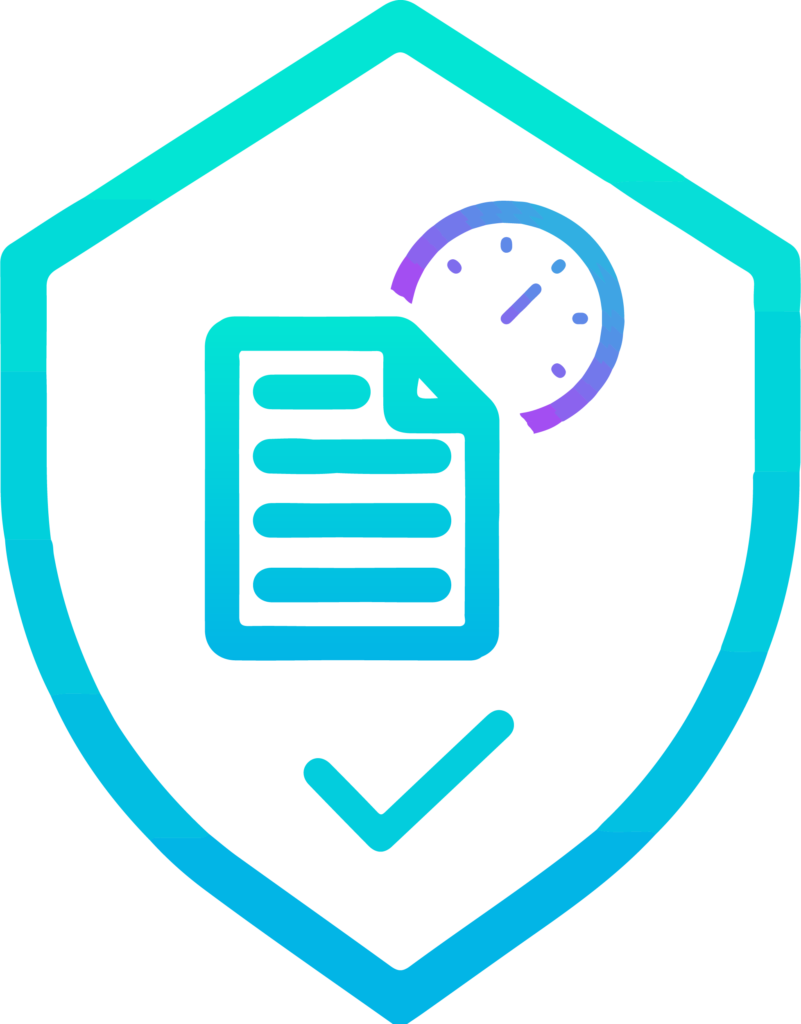 Get instant signals from your machines and stay in the loop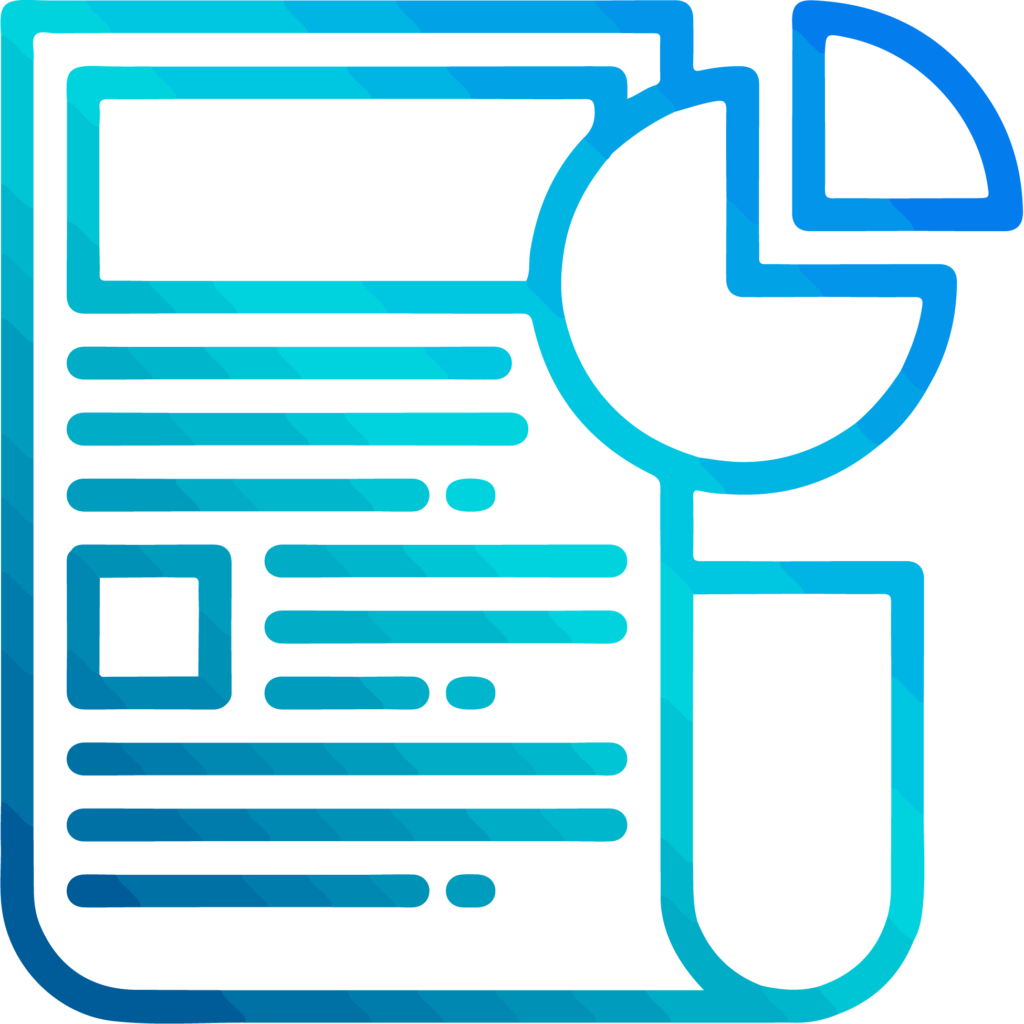 Get simpler (automated) reports that deliver information without errors
WHAT QUALIFIES
AS AN EXCELLENT OEE?
What constitutes good OEE might vary depending on the sector and the product being produced.

For instance, anything above 90% in the food and beverage business may be seen as good, whereas 60% in an assembly-line manufacturing company may be regarded as a high OEE.

Production parameters may have a significant impact on the OEE indication.

Even though 90% would appear high in the FMCG industry, a 2% increase in production efficiency could make a significant difference, whereas in discrete manufacturing, it would just be a small improvement.
OEE Performance Monitoring aids manufacturers in taking the initial step toward controlling production
Built-in dashboards and reports make it easier to analyze errors, production, and other failures.
Large screens display OEE and production statistics in real-time to increase transparency.
Automatic notifications are delivered in response to machine indications and operator actions.
Get a Preview of Our IoT Platform
Our main goal is to help businesses overcome obstacles on their way to optimal performance. Reach out to one of our experts to get a direct presentation on how our IoT solutions can help your business.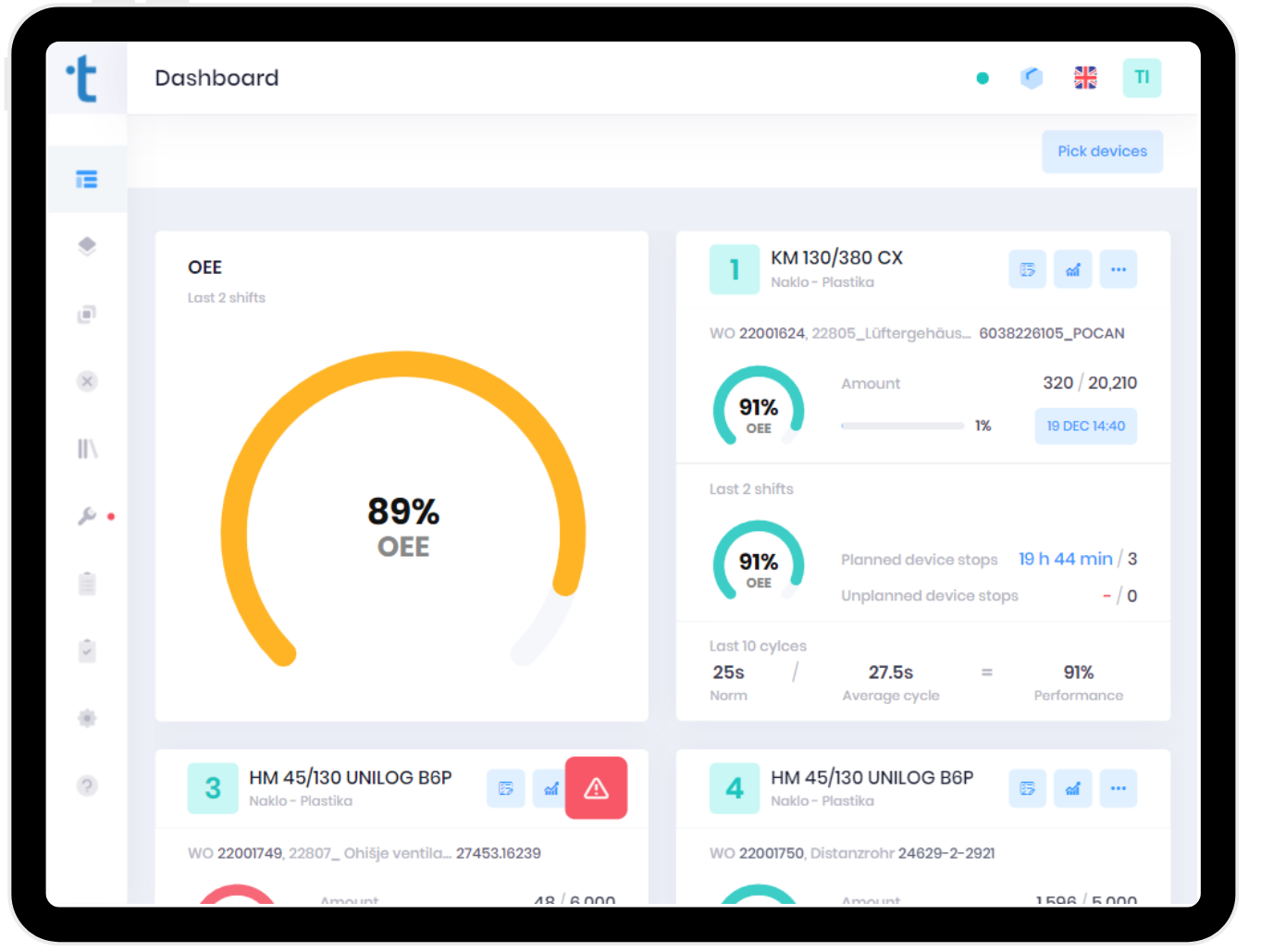 An OEE chart that automatically delivers relevant information
Through our OEE platform, your machinery is automatically analyzed and the data portrayed through an OEE chart, available on demand and configurable per select time periods that are
most relevant to your business.
Get direct insight into your production process

Set up the entire layout of your machinery, the process and the parameters that are most important to you, and enjoy the benefit of having your reports available both in real time and as on-demand, exportable reports.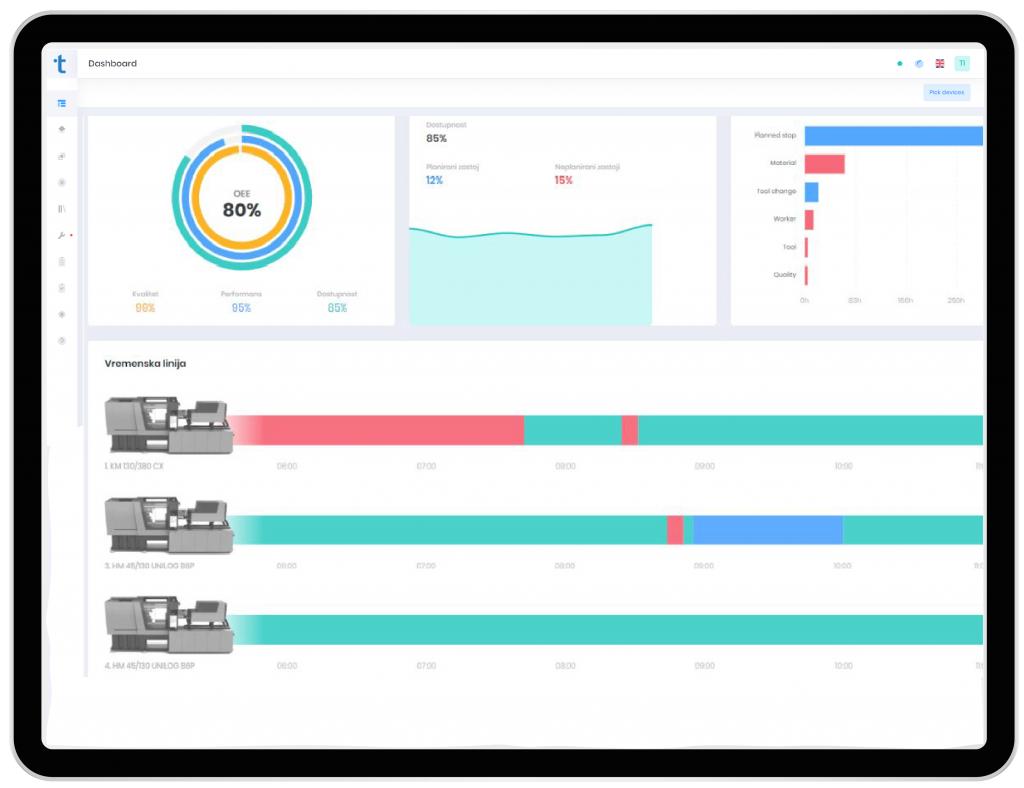 We connect all machines – regardless of age, type or product.

We'll make sure to handle the entire integration process into our system through signaling equipment that enables direct communication between the machine and the software and the dashboard that it is associated with.
Process Parameters Tracking
One of the key functions of this software is to track process parameters, which are factors that affect the quality and efficiency of the production process. Some examples of process parameters that might be tracked with OEE software include production speed, yield, and scrap rate. By tracking these parameters in real-time, manufacturers can identify problems with the production process and make adjustments to improve overall equipment effectiveness. This can help to reduce downtime, increase productivity, and improve product quality.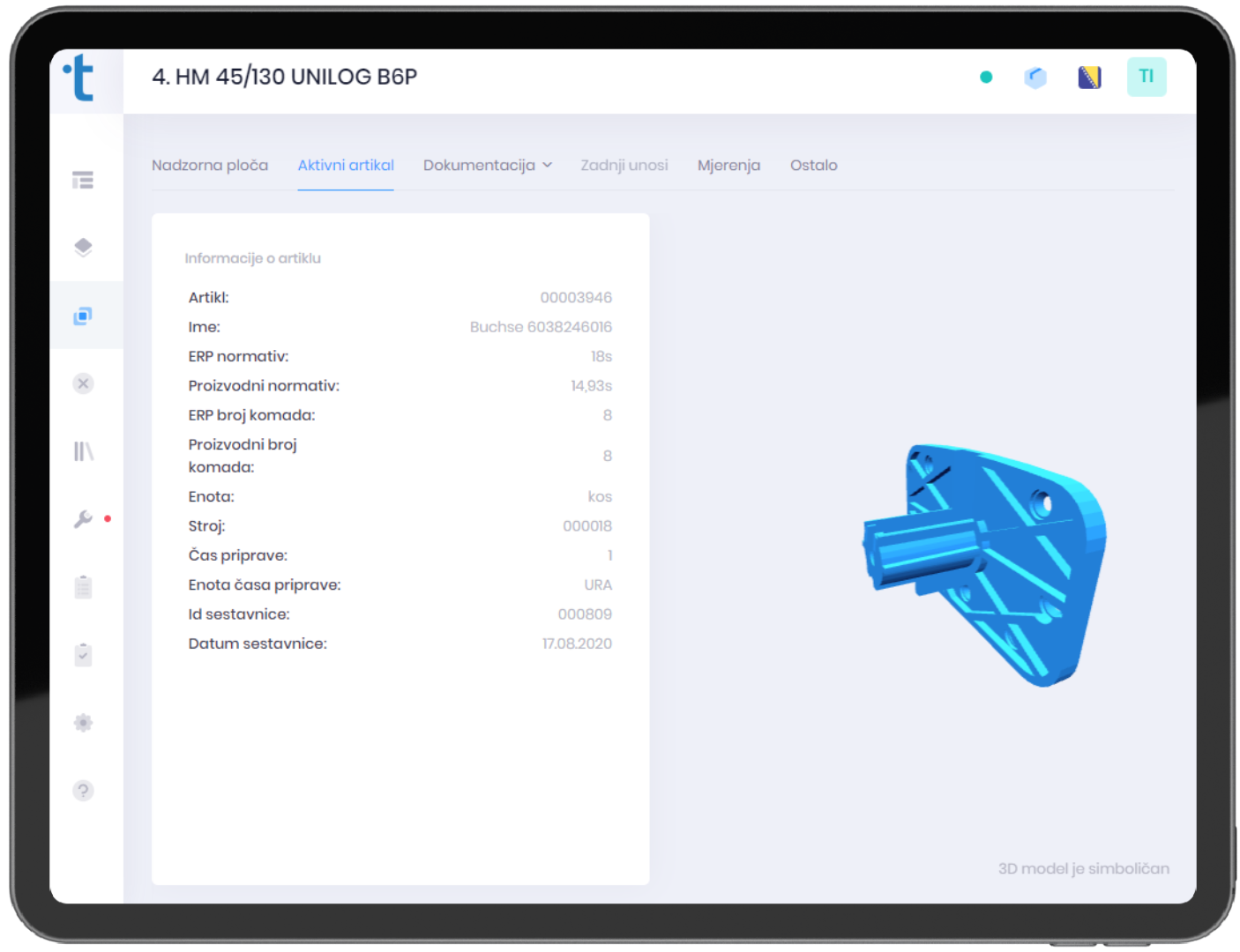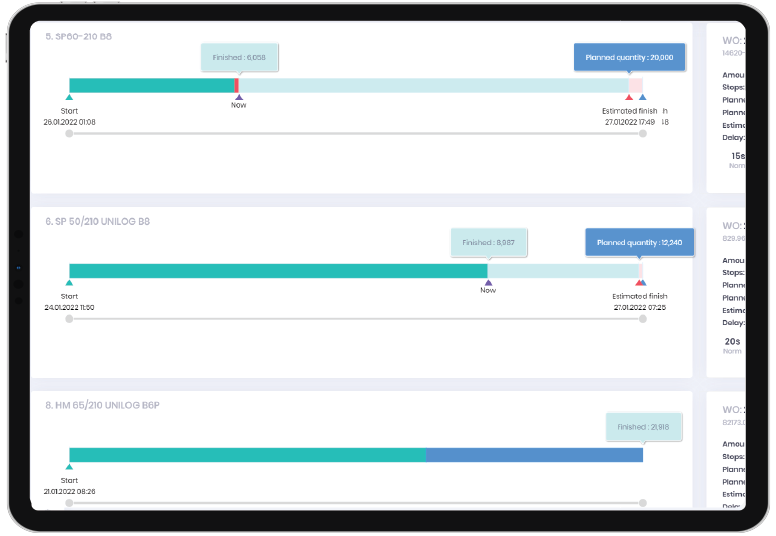 Work orders are instructions for producing a specific product or group of products. With Tipteh IoT Platform, manufacturers can track the progress of each work order through the production process, including the time it takes to complete each step, the amount of material used, and the number of products produced. This information can be used to identify bottlenecks in the production process and make adjustments to improve overall equipment effectiveness. Work order tracking can also help manufacturers to maintain accurate inventory records and reduce production costs.
See Our How Solutions Can Help You
A Tipteh automation specialist is waiting for your call. Find out how our software can help your business improve in efficiency.
Total Equipment Effectiveness Performance Monitoring
Connect to your devices and collect data from them. Start keeping track of OEE, which is computed automatically based on machine signals. Start keeping an eye on your production's progress and efficiency so you can make decisions based on real data.
Faster production reporting with real-time monitoring
Higher production output due to quicker production launch, quicker escalation of defects and downtimes
Increased machine availability due to quicker maintenance reaction time
What is OEE (Overall Equipment Efficiency)?
OEE, or overall equipment effectiveness, is a metric used to assess how effectively manufacturing plants are managing the capabilities of their equipment. The goal is to produce products of the highest quality possible while utilizing as much of the machine time as possible. Three elements combine to form OEE.
Availability is the proportion of actual work time to anticipated working hours. Breakdowns, micro-downtimes, and the time required for switchovers and machine setup all lower availability.
Performance is the proportion of working time to available time. When the speed of processes is slower than anticipated, performance suffers.
Quality: The proportion of manufactured components that are good enough to be distributed further to the total number of manufactured components.
The aim of businesses is to achieve and maintain the indicator at the highest possible level. Average companies manage to achieve an OEE of around 60%. The best-organised companies can boast a score of around 85%, with the greatest attention always focused on the best possible quality factor.
What can you do to be among the most effective plants? The first step to understanding the productivity level is to start measurements. How to monitor OEE automatically in real-time?. The solution is OEE software. OEE software is a modern system whose task is to constantly monitor all processes that take place on the production line. How is the overall equipment efficiency (OEE) measured? After connecting to the devices, OEE system collects information about the real time of the cycle, enables an accurate description of the machine states during the shift, and defect reporting (manufactured items are OK / NOK). Based on these data, the OEE is calculated. The OEE system indicates things to improve and sends notifications in real time.
Where is OEE software used?
OEE software
 is widely used 
in manufacturing
. It is used by the electronics, automotive, aviation, pharmaceutical, cosmetics and machines industries – in these and many other industrial plants, manufacturers welcome the use 
of OEE. 
MES
, the manufacturing execution system, also takes this data, collects and uses it for further analysis, which improves processes and increases the efficiency of the production process. MES collects more information about the process and allows to manage the reworks. The qualitative data are necessary to generate SPC reports. MES also enables paperless production and traceability. 
OEE tracking software 
is one of the most fundamental investments being made by modern businesses.
How does the OEE monitoring system work? Machine Connectivity connects the machines to the plant's internal network. The data is read and processed by OEE software. Production Execution allows the monitoring of production plan execution in real-time. The system checks the production progress on an ongoing basis, and thanks to Defect Handling, it can also report faults. The system will show the cause of these defects. OEE Analysis module shows KPIs along with availability, performance and quality. This information allows you to establish overall equipment efficiency and then the action plan for your production facility. The obtained score of overall equipment efficiency (OEE) indicates whether the current production process allows achieving maximum efficiency, or whether some aspects need improvement. Thanks to Digital Documentation, all documentation is paperless and all messages are displayed on machine monitors. The Maintenance ANDON module allows you to quickly and easily communicate with the maintenance department. Digital communication as well as a history of faults and actions taken are stored in the system.
And how does the OEE system know what the highest possible machinery effectiveness is? The client decides what standard of OEE will be satisfactory and how exactly he wants to calculate it.
There is another major advantage that OEE software provides – the manager gets information about irregularities in real time and knows the current overall equipment efficiency (OEE). There are no delays due to the delivery of paper documentation, and access to reports is remote. As a result, it is possible to react in time to complete the production plan on time.
OEE allows not only a quick overview of processes running in real time but also of those that have been already completed. In this way, it is possible to check whether a failure has occurred, how quick the response time was and what the cause of the downtime was. By comparing current and historical orders, the trend of OEE can be checked to know what is causing productivity to decline.
OEE system – possible integrations
OEE Performance Monitoring is not just about checking one indicator. Growing businesses benefit from a comprehensive range of manufacturing management systems. The systems can be integrated with each other. OEE effectively exchanges data, especially with ERP system.
What for? By integrating the systems, you will avoid double reporting involved in downloading data from several programs. Each of them is connected to the main system, receives the same information and uses it in a specific way. Additionally, it can analyse the information and exchange it with the rest of the network.
Your OEE – benefits for your company
OEE software enables the collection of correct production data and tracking the condition of machines and the progress of production in real-time. Each factor that could delay production is notified. The collected data and generated reports indicate areas that require improvement for production to proceed as planned. It ensures that overall equipment efficiency is maintained at the highest level.
By achieving high OEE, overall equipment is utilised in the plant in the most optimal way and the shop floor of customers is filled with full-quality products delivered on time.
This is what causes your factory to start ignition. OEE builds the image of a perfect supplier.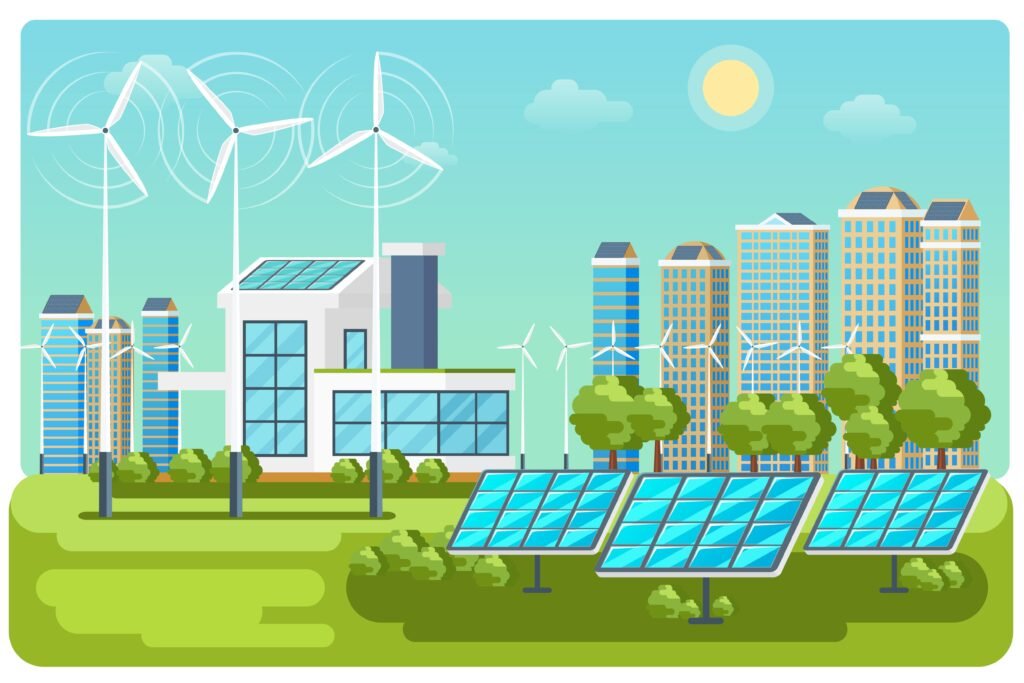 The aim of this article is to help you become greener. Even some of the big business leaders are leaning to it, like Bill Gates. What Are the 10 Simple...
Read More
{"slide_show":3,"slide_scroll":1,"dots":"false","arrows":"true","autoplay":"true","autoplay_interval":3000,"speed":600,"loop":"true","design":"design-2"}