A system that helps you make better decisions, backed up by data and thorough
analysis
Your operators work faster, your managers make better decisions.
Stay in control of the data your machines send out to the dashboard!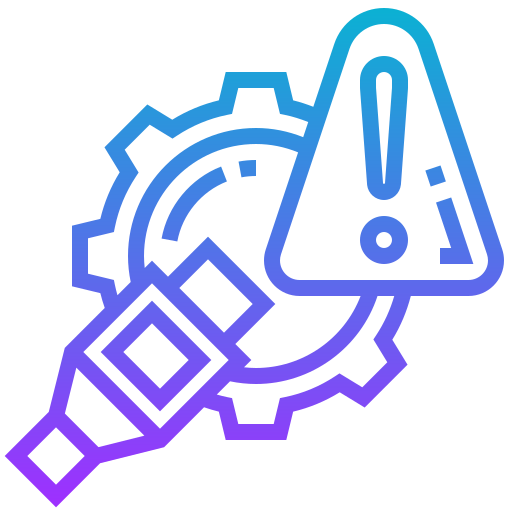 Be aware of any defects or potential stops in your production process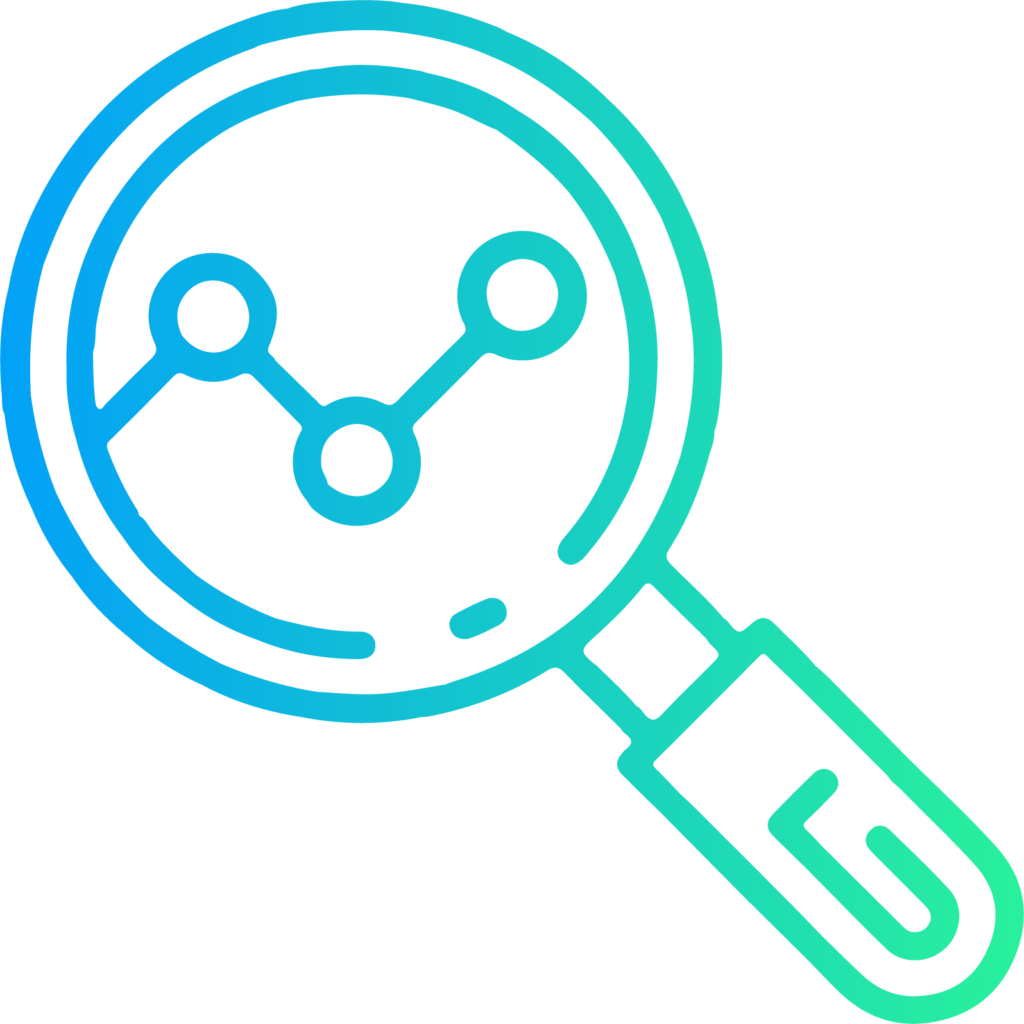 Have your data delivered in a format so your decisions are better informed.
Take Control of Your Production
MES is a platform for manufacturing efficiency and execution that enables the collection of data from the machines, or the overall production line, as well as analysis and simpler display of the results.
The use of our MES products helps managers make more informed decisions for more efficient and productive production while also helping the operators have their tasks streamlined.
Information is gathered and delivered instantly thanks to extensive machine connectivity and the network's cabling infrastructure.
Powerful analysis tools within the dashboard; data is analyzed and results given to the operator or manager – making their workload easier.
Instructions, checklists, and all papers are stored in the system using an automated process that makes retrospective search easy.
Continuous quality monitoring: process parameters, such as measurements and checklists, are manually or automatically collected in real time.
Get a Preview of Our IoT Platform
Our main goal is to help businesses overcome obstacles on their way to optimal performance. Reach out to one of our experts to get a direct presentation on how our IoT solutions can help your business.
Easier Visualization, Better Decision Making
See your next move within a few seconds.

Our MES product delivers data in a format that is easily scannable, understandable and provides you with the idea of where to optimize. As a user or manager, you're able to spot your next move in mere seconds.
Overcome All Stops or Setbacks
Have real-time insight into any stops, planned or not.

Staying on top of your production process involves handling any stops, pauses or defects that may bring your production to a halt. Get direct information as soon as any problem arises, giving you a chance to overcome challenges and getting back on track quickly.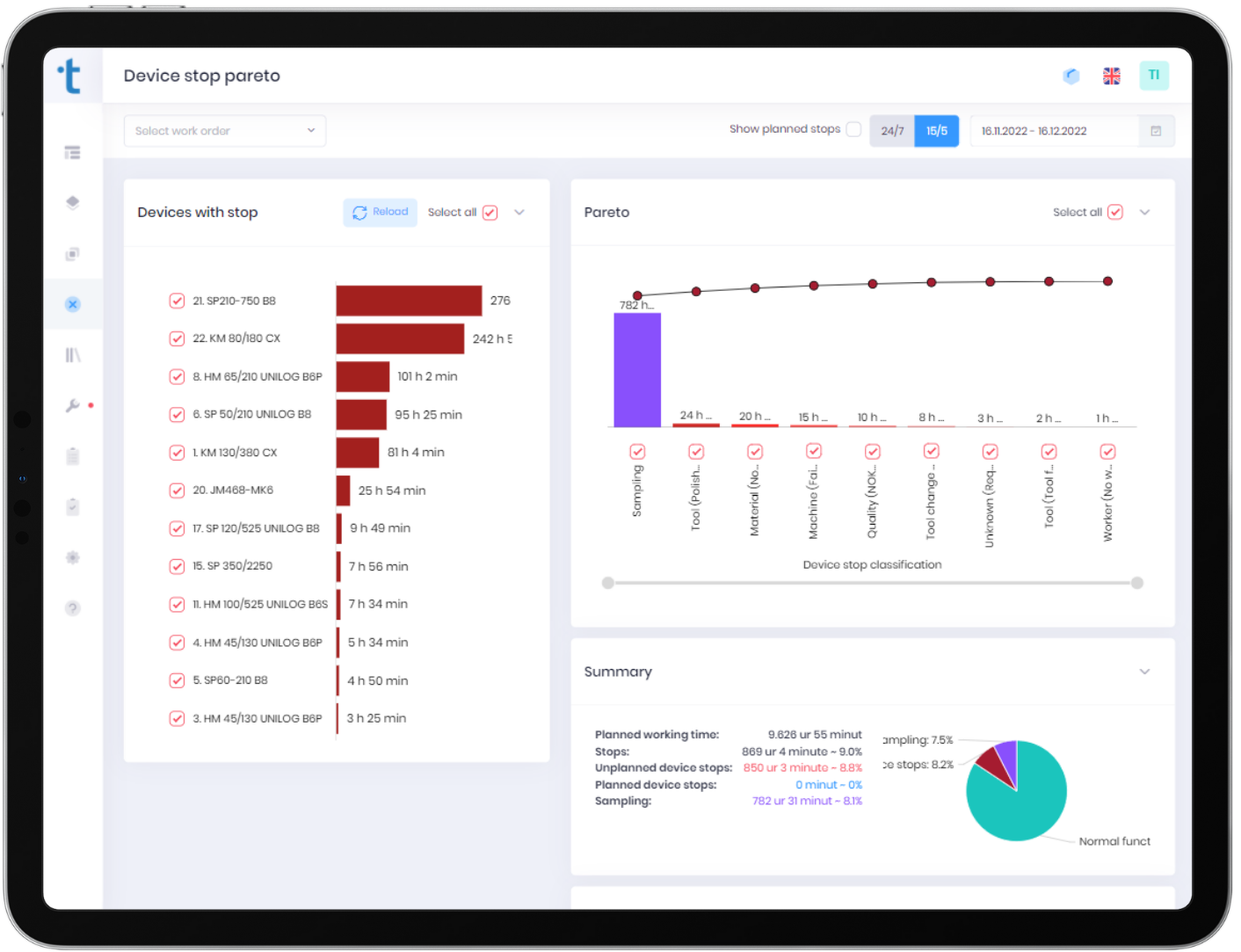 All the Data At Your Fingertips
Regardless of type, product, age or machine – we collect and deliver the data directly to you.

Through partnering and working with hundreds of companies around the world, we've been able to develop a tool that reads and analyzes data in any format, size or from any machine. We set up the parameters that are relevant to your business and develop a solution that delivers concrete results for your business.
MES can also help manufacturers to track production metrics, such as throughput, yield, and scrap rate, and to generate reports that can be used to optimize the production process. By providing real-time visibility into the production process, MES can help manufacturers to improve productivity, reduce costs, and ensure that products are produced to the highest quality standards.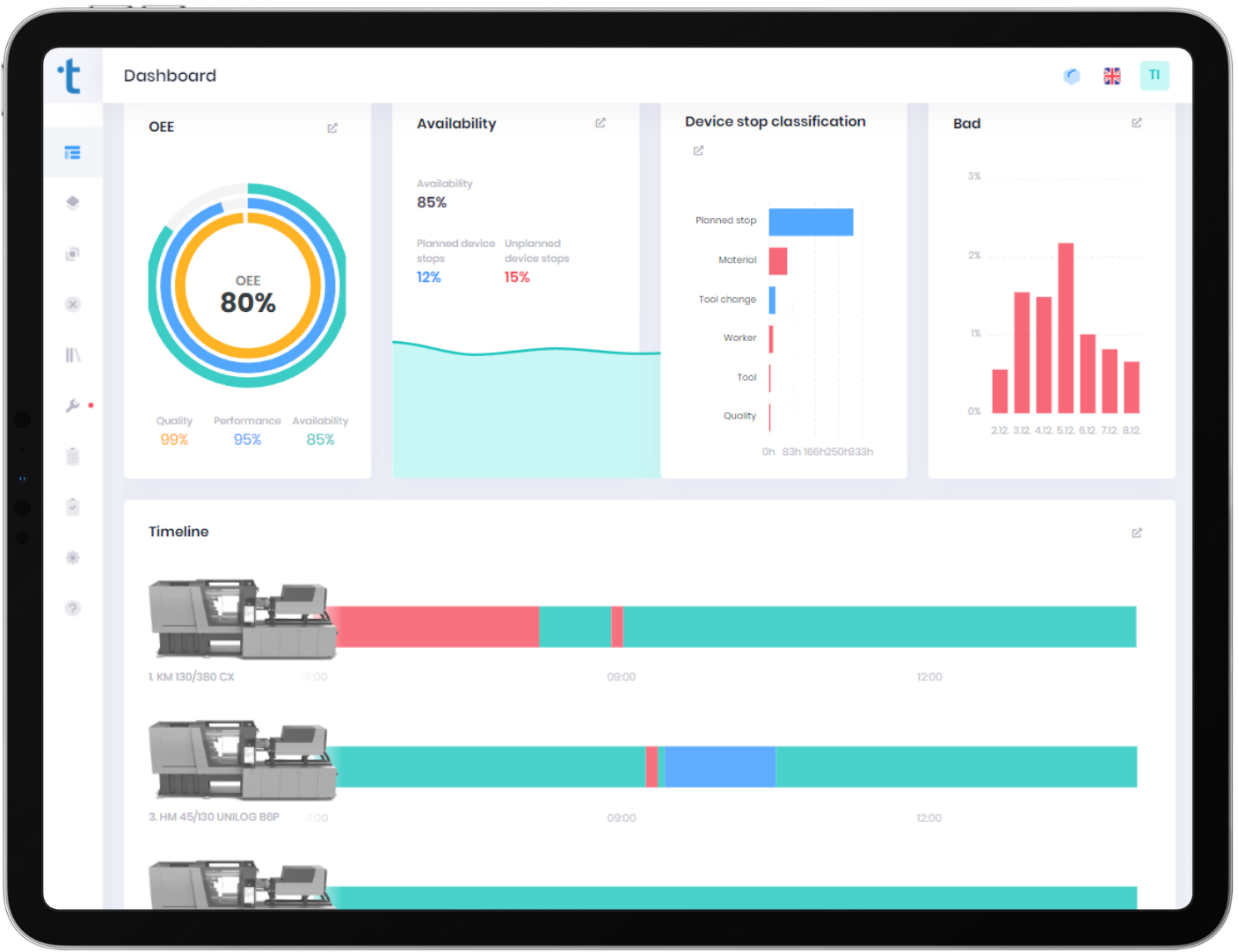 Tipteh IoT Platform will enable you to track the performance of your production line, product quality and the level of effectiveness of your factory. Oversee all the processes being acted out in real time and track the quality of your end product through the dashboard and compare with the standard that needs to be maintained for your factory.
See How Our Solutions Can Help You
A Tipteh automation specialist is waiting for your call. Find out how our software can help your business improve in efficiency.
Manufacturing Execution System – The new industrial revolution?
A contemporary facility without a manufacturing execution system is now hard to picture. If you want to produce more with the same machine park, an investment in MES (manufacturing execution system) is a necessity. Competitive factories that adhere to the Industry 4.0 idea have long already adopted modern manufacturing execution systems, which have radically changed the way their manufacturing operations are conducted. Is your business prepared to go global?
Manufacturing execution system - what exactly does it mean?
An advanced piece of software called a MES system is used to monitor and enhance the production lines' availability, productivity, and quality. The class of the adopted solution determines the system's complete functioning. By automating data acquisition, our MES monitors the real working time of the equipment and logs downtime. It enables the planning and management of manufacturing activities. The system compiles data on the manufacturing component quality, while any and all anomalies are immediately reported. Most importantly, it greatly lowers the likelihood of resource waste in your facilities. Production becomes more profitable and efficient.
The manufacturing process is steered through all of its stages by MES software, including planning, scheduling, monitoring, supervision, execution, and optimization.
The MES application collects, gathers, processes, and generates reports as the manufacturing execution system verifies the work-in-progress at each of these stages. A sophisticated algorithm examines the reasons for micro-stops and displays Pareto charts to examine the underlying causes of present performance levels.
How does the MES software work?
The company's internal system network is linked to a sophisticated manufacturing execution system. Data collecting in real-time is one of the system's greatest advantages. It gathers information directly from machine automation or via PLC from all of the machines' sensors, which are located along the production line. Telegrams, which are brief messages informing about the current location and the procedure being followed, are the signals that are sent to it.
But before that can happen, a database containing the precise specifications of all the parts and procedures utilized in the manufacturing process must be made available to the manufacturing execution system software. What source does the MES system use to obtain this data? The enterprise resource planning system, or ERP, gives your program the data. But don't forget to finish the platform integration for both first. The two-way connectivity between MES and ERP systems makes it possible. A little amount of data is downloaded from the ERP, while the remaining data is created in the MES. The systems' ability to exchange information enables the whole data set required for a successful finished manufacturing plan.
The MES software monitors the quantity of components required to finish production on a continuous basis, and if we predetermine a crucial minimum level, the software sends a message informing us that fresh components are required. As a result, the manufacturing execution system not only functions in real-time but also foresees potential dangers and successfully mitigates them. If this is not possible, it promptly notifies the operator of the error. The time required for machine changeovers and the quantity of micro-stops are both decreased by MES. The monitoring of all connected devices and management of plan implementation are made possible by special modules. The software keeps track of all production-related interruptions, including micro-stops. The best solution for automating the rework process is Reworks Management.
Why is implementing the MES even necessary?
To utilize all of the company's resources, both technological and human, to their utmost potential, a cutting-edge production execution system is required. The use of MES ensures that every stage of the process has been carried out precisely in accordance with the planned technology. While it's crucial to avoid errors and micro-stops, it's also crucial to make sure that the workforce's abilities are properly utilized.
Additionally, this will enable the detection of quality-related flaws since it may turn out that ineffective operator behavior rather than machine malfunction is to blame for low productivity. The MES system will detect any potential loss of process stability right away. Data on the quality of the products is regularly generated via SPC reports. If it falls, having this knowledge enables prompt action to restore process stability.
Traceability makes it easy to track and trace finished commodities, semi-finished goods, and raw materials. S/N, component batches, and container loads are linked to ongoing production. The system verifies scanned resources and processes. Any stage of the production process includes an automatic labeling process. Through the use of traceability, it is feasible to identify raw materials using scanned finished items and vice versa – after scanning raw materials to determine which finished goods they were used in.
No longer do you have to wonder how so many of the finished items are of poor quality and why the production process decelerates at certain points. A management can at any time view the performance of all operators remotely thanks to the MES software.
How does an MES system affect operations?
A concept known as "Industry 4.0" is built on advanced industrial digital technologies.
Cross-system integrations became more vital as the sector expanded more quickly. The system's interactions with other pieces of software are much more important than just what it is capable of. Other management systems, such as WMS, EMS, or ERP, are easily integrated with the manufacturing execution system (MES).
How does remote quality management affect OEE?
Systems for manufacturing execution are used to increase the productivity of manufacturing processes. How do we gauge their effectiveness? The real-time data collection and notification capabilities of MES allow for prompt action. Operators are guided through the manufacturing operation by the system, which provides instructions to them. All of these processes shorten reaction times and highlight potential areas for development. The OEE (overall equipment effectiveness) indicator rises as a result of the execution of these improvements. Analyzing recent and previous data enables monitoring of both short- and long-term factory progress. The documentation process is also digital, preventing double reporting and guaranteeing prompt communication.
Utilizing cutting-edge software for remote work progress monitoring is essential for a business to completely adhere to the concepts of Industry 4.0 and therefore achieve the greatest performance metrics.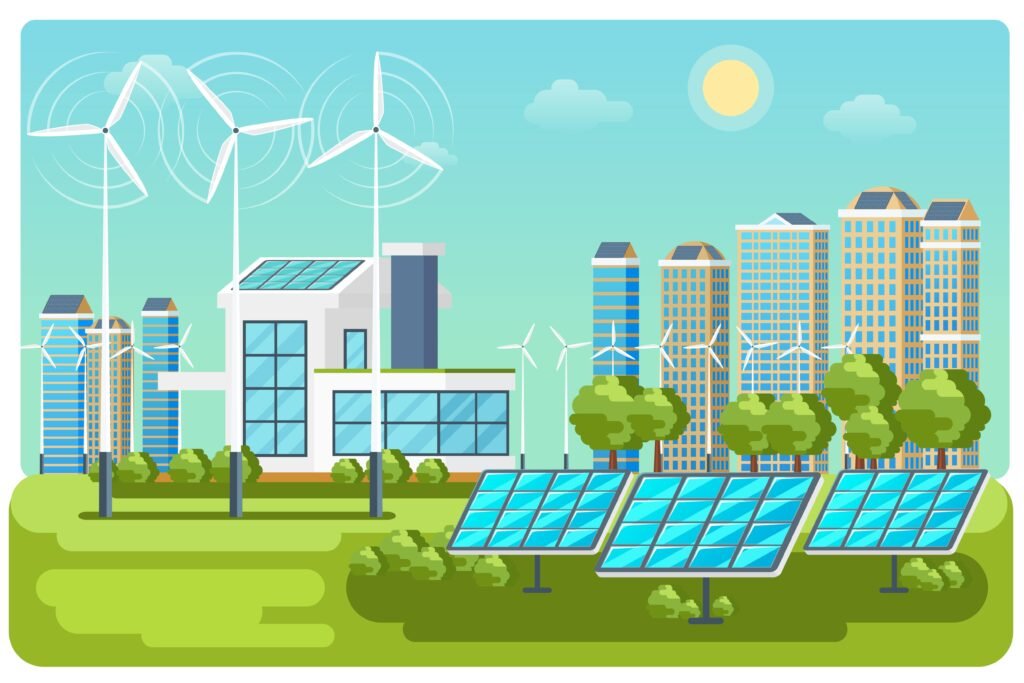 The aim of this article is to help you become greener. Even some of the big business leaders are leaning to it, like Bill Gates. What Are the 10 Simple...
Read More
{"slide_show":3,"slide_scroll":1,"dots":"false","arrows":"true","autoplay":"true","autoplay_interval":3000,"speed":600,"loop":"true","design":"design-2"}